A 7.30am transfer from your hotel to HC base camp and a brief of the tour. Guests travel through the Angkor Wat complex through the countryside, small villages, local wats and to near Beng Melea temple. Guests continue on to Svay Leu, 15kms away from Beng Melea to visit their small market and to buy some local produce. This marks the last location of a large village and a crossroads market. Beyond this is Hidden Cambodia.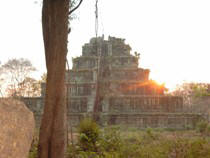 In Svay Leu, we visit two locations; the local wat, a Buddhist monastery in Seyiong, to light josh sticks for good luck and to make small offering to the monks. We also stop by to say hello to the oldest lady in Seyiong and to bring here a small present of fruit.
Koh Ker complex is located 7 kms away from here, a total of 118 temples in total. We travel to Koh Ker temple and go direct to Koh Ker Village, located in its shadow and with a population of 75 families to Check in at Hidden Cambodia Lodge house .
We return to the main complex and start our tour of Koh Ker. Guests start their tour of Koh Ker temple complex with the stunning outer palaces before entering and standing in front of Prasat Thom, the main pyramid temple. Guest can no longer climb the pyramid temple unfortunately. We view one or more temples before retiring for a tasty lunch overlooking Koh Ker from the lodge balcony.
After a short rest in hammocks away from the heat of the day, Guests travel to Phum Thmei, a remote village further on in the jungle where HC guests have built a fourth well. We may ask guests to assist with water filer distribution for all already donated items: See Hidden Cambodia Humanitarian projects. A fantastic evening dinner is cooked by Choen, our chef who travels from HC base. Guest overnight in Koh Ker Village, in HC lodge located behind the temple in the ancient village of Koh Ker or " Borann"
Day 2: Following a hearty breakfast, we explore either small neighboring villages or remaining temples.
Following lunch, guests travel to Beng Melea to view this 11th century.
This is a very beautiful ruined templewith overhanging ferns. It was used as the hunting lodge off Angkor Wat and also as a resting location for Kings traveling for the old pre-angkorian capital, the Great Preah Khan over 100km away from Beng Melea. Guests arrive back in good time, 5.30pm to 6pm,